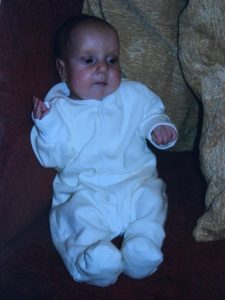 Emily Nasia (meaning miracle of God) Harris was born 6 weeks prematurely on 5th September 2006 at Queen's Medical Centre, Nottingham, weighing 3lb ½oz. It had been identified during the pregnancy that she was suffering from a serious heart condition, Truncus Arteriosis, and had also been having problems growing in the womb.
Against the odds, Emily survived for nearly 5 months, spending much of her time in hospitals in Mansfield and Birmingham before being allowed home on 14 December. Emily spent just over the next two weeks at home where many happy memories were made. However, she then picked up a virus on the same day when Birmingham hospital said that they were ready to operate and had to be taken back to hospital and was transferred to Leeds where despite her frailty and size she fought that virus, but developed another which she was unable to recover from.
Emily passed away into heaven in her Mummy's arms on 1 February 2007.