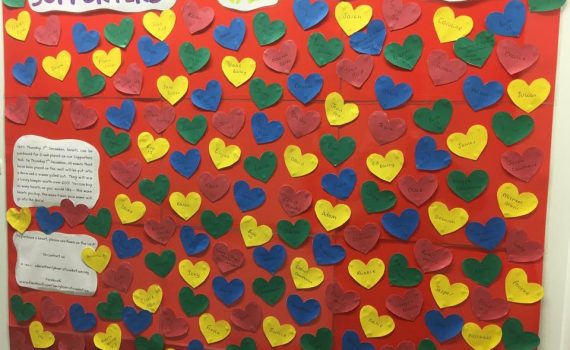 Supporters' Wall of Hearts
We have now launched a Supporters' Wall of Hearts which is currently on display in the main corridor of the neonatal unit. People can purchase a heart for £1 and have their name placed on the wall (or the name of anyone they choose!). On Thursday 7th December, we will also be in the main concourse of the hospital selling hearts and at 2pm on that day, every person that has bought a heart will be entered into a prize draw to win a luxury hamper! You can buy as many hearts as you like – the more you buy, the more chances you have of winning!
Hearts can be purchased directly from us or paid for via our PayPal Giving page. You can also text WALL17 followed by the amount in £s you would like to spend on hearts, to 70070 (e.g. to buy one heart, text WALL17 £1 to 70070. To buy 10 hearts, text WALL17 £10 TO 70070).